Call for Zine Submissions: *Transitive*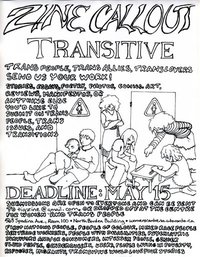 All trans people, trans allies, trans lovers: send us your work, your thoughts, your stories!
The Trans Inclusion Group of The Centre for Women and Trans People at U of T will be publishing a zine focusing on trans people, trans issues, and transitions. We invite you to submit your stories (fiction or non), essays, poetry, photos, comics, art, reviews, manifestos, or anything else you want to submit for inclusion in Transitive.
Possible topics include: identity, the body, transition/not transitioning, community, safety, allies/being an ally, activism, support, love/sexuality, or whatever you want to relate to trans-ness.
DEADLINE TO SUBMIT (extended!): Submissions must be received by September 30th, 2010 (by midnight, for email submissions).
The Centre believes those who are on the margins often have insights and understandings of how systems of oppression, power and privilege work and are maintained.
First Nations people, people of colour, mixed race folks, intersex people, sex trade workers, people with disabilities, psychiatric survivors and those within the psych. systems, those in prison or who have been incarcerated, gender fluid people, genderqueers, cross dressers, users, people living in poverty, refugees, migrants, Transitive would be honoured to hold your stories.
Submissions are open to everyone and may be anonymous or signed. You may also include a short bio with your submission (1-3 sentences max).
HOW TO SUBMIT: Email us your submission to tigzine AT gmail DOT com, along with any questions you might have. Or, drop off your submission in the Transitive Zine Submissions mailbox located on the door of The Centre for Women and Trans People. Or, mail your submission to The Centre.
We will be publishing both print and online versions of Transitive, with the online version available from the Centre website. The publication date is still to be determined; if you would like to be notified when Transitive is published please include contact information with your submission. Submissions are not guaranteed to be published in the online or print versions of Transitive.
The Centre for Women and Trans People
University of Toronto
563 Spadina Avenue
Room 100
North Borden Building
Toronto, Ontario
M5S 2J7
Telephone: 416-978-8201
womenscentre.sa.utoronto.ca
***Interested in joining The Trans Inclusion Group at The Centre? We meet Wednesdays from 4-6pm. Drop in and join us!